Feast of the Cross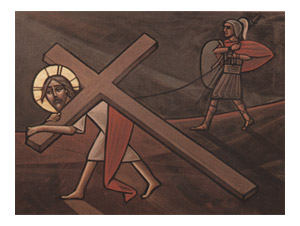 Because of its power, the Coptic Orthodox Church celebrates two feasts dedicated to the Cross. The first is on 17 Thoout (Sept 29) and the second on 10 Paramhotep (March 19).
On 17 Thoout (Sept 29), the Church commemorates the discovery of the Holy Cross, the cross on which Christ was crucified, by Queen Helen - the mother of Emperor Constantine. It was on this day that she ordered the Cross to be dug from under the rubble of Golgotha in the year 326 A.D.
The celebration on 10 Paramhotep (March 19) commemorates the appearance of the Holy Cross during the reign Emperor Hercules (Heracle). Upon defeating the Persians and forcing them out of Egypt, a prince stole the Holy Cross from its Church as his army returned to Persia. The prince hid the Cross in a box, dug a deep hole, and kept the Cross in it. When Hercules heard the news, he gathered his army and headed to Persia, defeating them once again. He was successful in finding the Cross, and returned it to Constantinople in the year 629 A.D.
Schedule of Services
Monday, September 26 - Vespers for the Feast of the Cross
Vespers and Procession 7:30 p.m. - 9:00 p.m
Tuesday, September 27 - Feast of the Cross
Divine Liturgy 8:00 a.m. - 10:30 a.m
Wednesday, September 28 - Feast of the Cross
Divine Liturgy 9:00 a.m. - 11:30 a.m
Thursday, September 29 - Feast of the Cross
Divine Liturgy 5:00 a.m. - 7:30 a.m